Al Emadi sponsors of the Prix Jean-Luc Lagardere 2017
Al Emadi Enterprises, who are the sponsors of the Prix Jean-Luc Lagardere until 2017 are keen to extend the contract until 2022.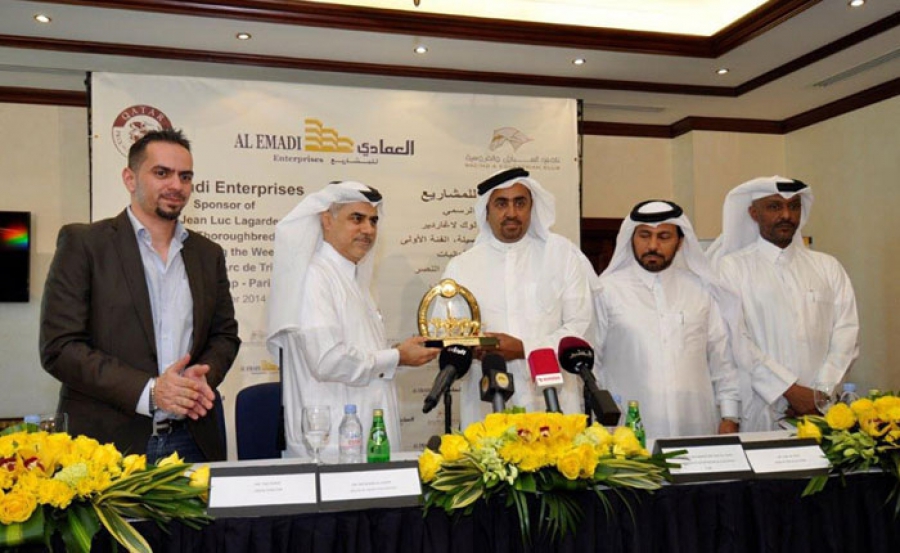 This was disclosed by CEO of Al Emadi Enterprises Mohammed Abdulkarim Al-Emadi at a press conference at the Qatar Racing and Equestrian Club yesterday.
Prix Jean-LucLagardere will be run at Longchamp racecourse in Paris on the same card of Qatar Prix de l'Arc de Triomphe on October 5 The Group I racing event is reserved for two-year-old Thoroughbreds and carries a purse of Euros 350,000.QREC chairman HE Sheikh Mohammed bin Faleh al-Thani, Al Emadi Enterprises Creative Director and Head of Media Department Fadi Ramzi Abu Salah and QREC Head of Media Section Saad Mubarak al-Hajri were also present during the occasion.
"It brings great value to our brand and it is an honor to be associated with QREC, which has propelled Qatar on the world stage by organizing such mega events. I must thank Sheikh Mohammed and QREC for providing us this opportunity to be a part of the Qatar Prix de l'Arc de Triomphe weekend in Paris. Though we have extended our contract until 2017, we are keen to continue our partnership till 2022," Mohammed Abdulkarim al-Emadi said."We are very pleased to stay part of sport events hosted by QREC both at home and overseas. Our relations with QREC are just special and they demonstrate what the ideal successful association between the sports and the business sectors should be like."Mohammed added."It was great news for Qatar when HE Sheikh Joaan's Olympic Glory won the event in 2012 and we hope that we will witness another Qatari owned horse win the race this year. The eff orts and facilities provided by QREC guaranteed the success of our sponsorship of Prix Jean-Luc Lagardere and I am sure it will be much better this year." HE Sheikh Mohammed commended the partnership between QREC and Al Emadi Enterprises. "We are very pleased to have Al Emadi Enterprises as the main sponsor of Prix Jean-LucLagardere. They have supported many races in Doha as well. We are confident that this sponsorship will take the event to wider horizons one year after another. We do thank Al Emadi Enterprises and Mohammed Al Emadi for such valuable support over the years and maintaining this excellent partnership, demonstrating the commitment of QREC and Al Emadi Enterprises towards promoting the high standing of Qatar."