Al Emadi extends sponsorship of H.H. The Emir Trophy for Arabians
Al Emadi Enterprises extended its support for Qatar Racing and Equestrian Club (QREC) as the title sponsor of HH The Emir Trophya.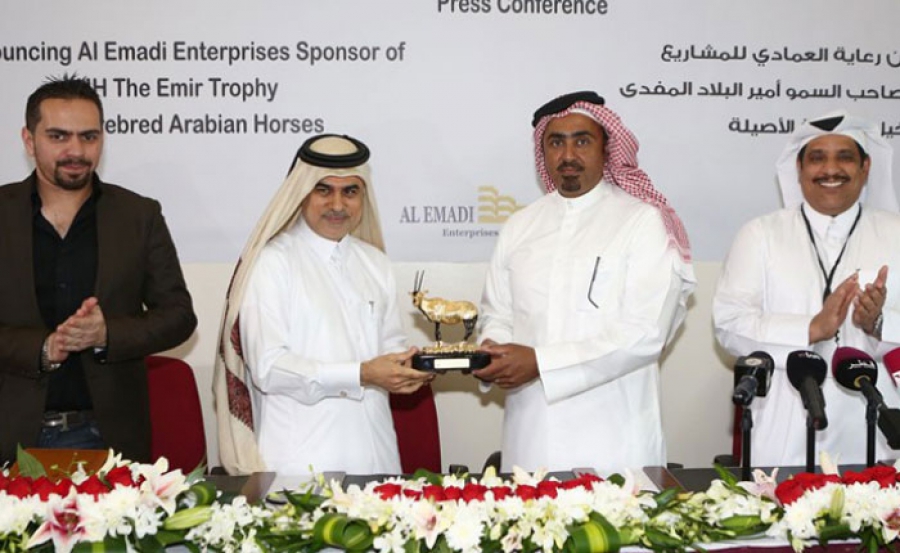 a Group II Pure Arabian race, which will be held on Thursday, February 27.
The press conference highlighting the extension of the sponsorship was attended by QREC Chairman HE Sheikh Mohammed Bin Faleh Al Thani, Al Emadi Enterprises CEO Mohammed Al Emadi, QREC General Manager Sami Jassim Al Boenain, QREC Deputy General Manager and Racing Manager Tariq Abdulahmid Al Siddiqi, QREC Head of Public Relations Mohammed Salem Al Abdullah, QREC Head of Media Section Saad Mubarak Al Hajri and Al Emadi's Creative Director and Head of Media Fadi Ramzi Abu Salah.
Talking about the 2014 HH theEmir Trophy for pure Arabians, Al Emadi CEO Mohammed Al Emadi said: "We're very proud to be associated with the the prestigious HH The Emir Trophy race for pure Arabians. Whatever we experienced in the Paris horseracing, organised by QREC, it was just too good. They are highly professional people and are promoting the sport in a very big way in the international arena. We're indeed very much impressed with their high-level of event organisation. It is our great pleasure and privilege that we have the opportunity to partner with QREC in two big races at home. In fact, QREC did not approach us to sponsor the events, but we were proactive to do so and to be partners with QREC as a leading organisation as demonstrated in the QR 10 million sponsorship deal over five years covering serveral QREC's events".
QREC Chairman, HE Sheikh Mohammed Bin Faleh Al Thani thanked Al Emadi Enterprises for its continued support to QREC and its events. "Al Emadi Enterprises and QREC have a long standing relationship. We thank them for their interest in supporting horseracing, which is indeed a sport fostered by our forefathers. We hope events like these can elevate the status of horse racing in the region", he said.
"This is not the first time for Al Emadi Enterprises to associate themselves with horseracing. They have supported our races many times not only in Qatar, but in France as well. It is our duty to give our local companies an opportunity to be part of the success whether in Qatar or overseas. We look forward to their continued support," added QREC Chairman.
Talking about the forthcoming classics, HE Sheikh Mohammed Bin Faleh Al Thani said "The competition is going to be very tough. This year in particular is going to be very exciting as we have many top class contenders in the fray. As we have seen in the Qatar International Horse Show, where there was not much difference between the first three placed contestants, it will be the same in racing as well. Even our local bred horses are taking part in Group I races. This is very exciting news for Qatar and I am sure it will only better and better. The credit goes to the management at QREC who have spared no effort to take Qatar racing to another level". QREC Chairman also hailed the efforts of QREC management and staff in preparing for and running the daily events of HH The Emir 23rd International Equestrian Festival. He extended special thanks to Tariq Abdulhamid Al Siddiqi, QREC Deputy General Manager and Racing Manager.
QREC General Manager Sami Jassim Al Boenain hailed Al Emadi Enterprises's support to QREC and to Arabian horseracing. "We can see a lot of improvement in the past few years in the local bred pure Arabians. It is great to see a top class horse as Assy who is locally bred and a strong contender in the HH The Emir Sword. The winner of this race is usually the favourite in the Qatar Arabian World Cup at Longchamp in Paris. We are very proud with this achievement as it puts Qatar on the world map as far as breeding of pure Arabians is concerned", said QREC General Manager.