EBRAZ, CHOPIN, AJS GANNAS win on the big day
H.H THE EMIRS SWORD (GR1 PA) (SPONSORED BY TOTAL E & P QATAR)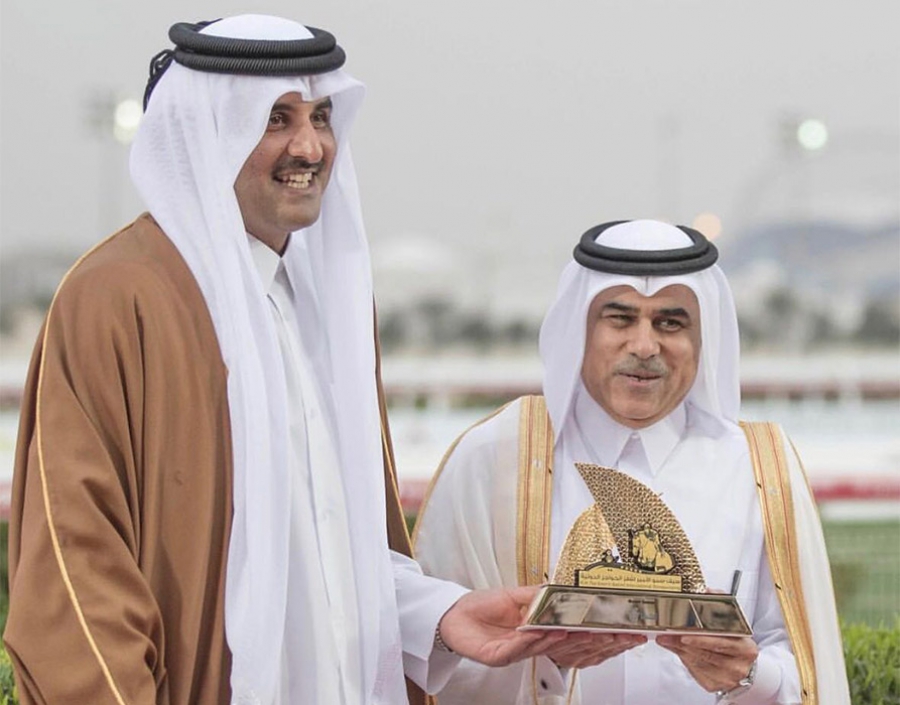 For the second straight year, trainer Julian Smart picked up the biggest race in Qatar with H.H Sheikh Mohammed Bin Khalifa Al Thani owned EBRAZ (Amer x Massamarie) winning the 2400m race on Saturday.
In the process, the 4yo, ridden by Alan Munro, denied Al Shaqab Racing's Al Mourtajez, who had won the first two legs of the Doha Triple Crown at Qatar Goodwood Festival and Qatar Prix de l'Arc de Triomphe weekend, the USD 1 million bonus. Thomas Fourcy's Laft Nethar played the pacemaker, who was duly joined by Smart's Ba'sil up front. Going into the final bend, jockey Julien Auge gave Al Mourtajez a go ahead and while the Dahess colt moved up, he had Ebraz and last year's winner Gazwan, Richard Mullen astride, for company, with Umm Qarn's TAYF (Amer x Djelmila) taking the inside line.
A furlong out and Ebraz powered up to take the advantage and pulled away for a three and a half length win, with Alban de Mieulle trained Tayf edging out AL MOURTAJEZ (Dahess x Arwa) for the second spot.
H.H THE EMIRS TROPHY (GR 1) (PRESENTED BY LONGINES) A devastating run from Bahraini-owned CHOPIN (Santiago x Caucasienne) won jockey Alberto Sanna and the connections the million dollar Thoroughbred feature, HH The Emir's Trophy, on Saturday.
Abdulla Kuwaiti trained gelding was considered one of the best picks on his European form and had only impressed in Bahrain.
Abdulla Kuwaiti trained gelding was considered one of the best picks on his European form and had only impressed in Bahrain.
Qatar Derby winner NOOR AL HAWA (Makfi x Majestic Roi) was second ahead of Julian Smart's FUNDAMENTAL (Arch x Halo's Verse).
H.H THE EMIRS SILVER SWORD (SPONSORED BY AL HAZM) (4yo Purebred Arabians owned by local individual Qatari owners) Gerald Avranche picked up his second win of the meeting when the Frenchman guided AJS GANNAS (AF AlBahar x Karreema), trained by Hadi Al Ramzani, to a memorable win in the 1850m race.
The Al Jeryan Stud colt had a tough time this season, well beaten last time, but on Saturday, he was first past the post, with Harry Bentley and Adrie de Vries guiding two Jassim Ghazali colts, MELK (Munjiz x Florihala) and Derby winner ATEEJ (AF AlBahar x Sahara Croixnoire), to second and third place finishes respectively.
H.H. THE EMIRS SHALFA (SPONSORED BY HORIZON AUTOMOBILES) (3yo & older Thoroughbreds owned by local individual Qatari owners) (85 & above) Sheail Bin Khalifa Al Kuwari owned ALTARSHEED (Lilbourne Lad x Lilakiya) continued with his good form winning the USD 250,000 race, the gelding's first win over 2000m in Qatar.
The Mohammed Jassim Ghazali trained horse had won once before in Qatar, in January over 1850m, besides notching up two runner-up efforts this season.
On Saturday, Richard Mullen kept his mount on the rails even as Ibrahim Al Malki trained Crafted took the lead early on.
Altarsheed grabbed the advantage 100m out while Gerald Avranche rode COURTOFVERSAILLES (Giant's Causeway x Measure) to a close second over JP Guillambert-ridden FLAG WAR (Dubawi x Fantastic Flame).
AL BIDDAH MILE (GR 2) (SPONSORED BY NBK) (3yo) Simon Dow trained MR SCARAMANGA (Sir Percy x Lulla) topped the battle of the 3yo with a close win in the USD 250,000 race.
Mr Scaramanga tracked leaders Sea Fox and Catch A Wave, before moving through a gap between the two, while coming on to the final straight.
The British raider, who was a dual winner in Britain, including over this trip, held on gamely, even as Ibrahim Al Malki trained PAZEER (Siyouni x Parandeh), who had won his last two outings under Eduardo Pedroza, and Al Jasra Stud's NOTALOT (Sir Prancealot x Hapipi), helmed by Gerald Avranche, gave a chase, eventually finishing second and third respectively.
DUKHAN SPRINT (GR 3) (SPONSORED BY BREEDER'S CUP) (3yo & older) IZZTHATRIGHT (Moss Vale x Miss Adelaide) was a decisive winner of the race last year and on Saturday, the Injaaz Stud gelding led a one-two for owners and trainer Jassim Mohammed Ghazali.
Harry Bentley registered his seventh win this meeting when he tracked early leader and British raider CASPIAN PRINCE (Dylan Thomas x Crystal Gaze). Izzthatright took the advantage in the last 100m, while stablemate BLACK GRANITE (Dark Angel x Glisten), ridden by Frankie Dettori, too passed Roger Fell's ward, helmed by Tom Eaves, to lock the top two spots.
QATAR INTERNATIONAL CUP (GR1 PA) Umm Qarn's TM THUNDER STRUCK (Majd al Arab x Bonnett) brushed aside two years of disappointment in the mile-long race, winning his second race out of four starts this season with Olivier Peslier at the helm.
January's decisive win over the same course and distance perhaps put him right in the picture. On Saturday, After TM Thunder Struck passed early leader Mith'haf Athbah with half a furlong out, Julien Auge-ridden ZIKREET (Dahess x Dormadora), trained by Thomas Fourcy for Al Shaqab Racing, was gaining fast but only managed a second place, ahead of Julian Smart saddled SHABIH ALREEH (Jaafer ASF x Queen Kong).
AL RAYYAN BREEDERS CUP (4yo & older local Thoroughbreds) Ahmed Kobeissi's in-form mare SRAAB (High Chaparral x Marie Dora) opened the eight-race card with a magnificent run that has seen the 8yo win an excellent 14 of her 38 starts before Saturday.
Alban de Mieulle's Hadeer and Majed Seifeddine's Shawk led the 2000m race early on, with Alan Munro kept Sraab away from traffic. On the home straight, as Hadeer and Shawk weakened, it looked like Jassim Mohammed Ghazali's AL HARETH (Seas Legacy x Subya) and Zuhair Mohsen's ASAAF (Aussie Rules x Feel) were going to turn it into a duel, only for Sraab to speed up, join the pursuit and snatch the win away in the last 100m.