H.H. Emir crowned winners
Three days of exciting racing at the H.H. the Emir 23rd International Equestrian Sword Festival reached an amazing climax in the two.
Most prestigious races at the Qatar Racing & Equestrian Club on Thursday, when Assy became the first local-bred to win the Group 1 HH the Emir's Sword for Purebred Arabians, and Al Shaqab Racing's new colours were carried to victory by Frankie Dettori on Dubday in the Group 1 HH the Emir's Trophy for thoroughbreds.
The large crowd, including a strong contingent from Europe and the USA, had only just recovered from the thrilling display by Dubday, the first thoroughbred to carry the new Al Shaqab Racing silks of grey with gold braid, when Assy made history and led home a one-two-three for owner H.H. Sheikh Mohammed Bin Khalifa Al Thani and trainer Juian Smart.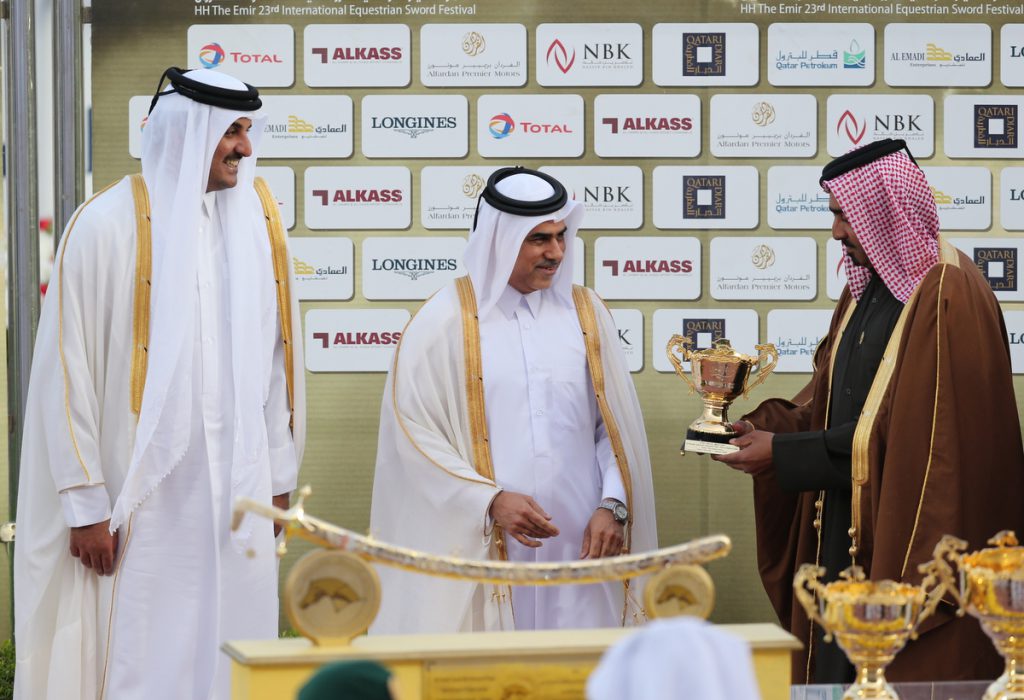 Rathowan, who made the running under Brett Doyle, looked as if he might hold on entering the final 200m, but Al Anga, ridden by Dubday's former jockey Harry Bentley, forged to the front, only to be caught in the last few strides by Assy, whom Christophe Lemaire brought with a sustained run on the outside.
Assy, whose record of seven consecutive wins from eight previous outings had included the HH the Emir's Trophy at the meeting last year, stepped up a grade to claim the 1.8 million riyals first prize by a short head from Al Anga, who had been undefeated in her previous five starts.
Rathowan was beaten a length and a quarter into third place, half a length clear of Nashmi, who did best of the Umm Qarn-owned runners.
Smart, who won the race in 2011 and 2012, was overcome with delight as he raced on to the track to greet his team while they gathered round their horses for an historic photograph.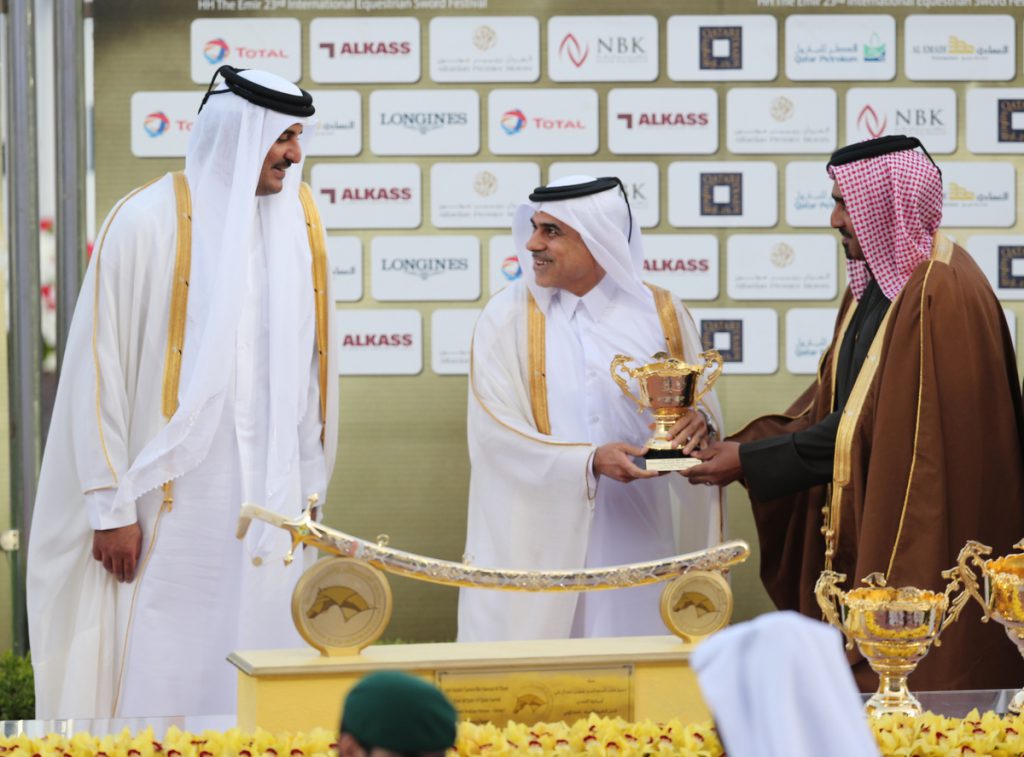 The cameras had already worked overtime after the equivalent race for thoroughbreds, the Emir's Trophy, worth 1.14 million riyals and also over 2,400m, where Dubday continued his remarkable rise to the top and Dettori gained his most important success since he was appointed retained rider for HH Sheikh Joann Bin Hamad Al Thani.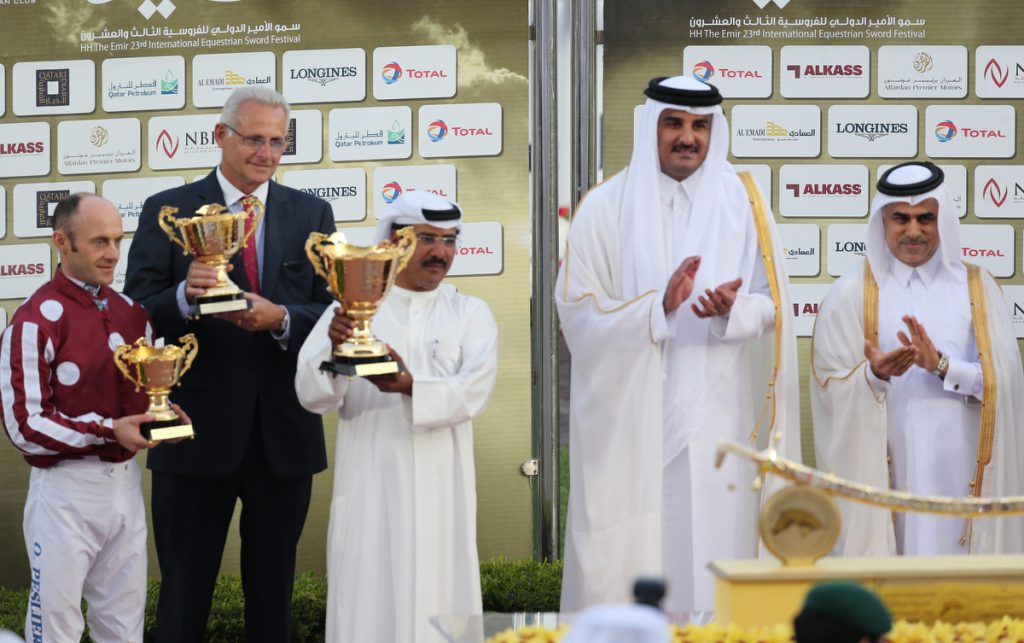 Dettori plotted the perfect path for Dubday, who was never worse than sixth and came with a sustained run on the outside in the straight, leading in the last 50m to win by three quarters of a length from the always-prominent Peter Anders and Adrie de Vries.
In a remarkable finish the next 12 horses, led by Polperro, passed the winning post within about three lengths of each other.
The remaining runner, last year's winner Very Nice Name, bled from both nostrils some way from the finish, according to jockey Olivier Peslier.
Dubday is now unbeaten in three runs in Qatar, having won the Qatar Derby and Qatar Gold Trophy for owner Sheail Bin Khalifa Al Kuwari last October, before his recent purchase by Al Shaqab Racing, whose recently appointed racing advisor Harry Herbert joined in the celebrations.
Dettori treated the crowd to his trademark flying dismount, despite having been handed a health warning by his doctor after breaking his ankle last October in a fall that prevented him from taking the ride on HE Sheikh Joann's Qatar Prix de l'Arc de Triomphe winner Treve.
Dettori said: "That was great, and fantastic to do it in my new home. I'm so pleased for Sheikh Joann, because this was important for him, and for me."
Originally trained by Sir Michael Stoute, who was on hand to see the race, Dubday never made the racecourse as a two-year-old and was sold to a German owner for 11,000gns at Tattersalls sales in 2012.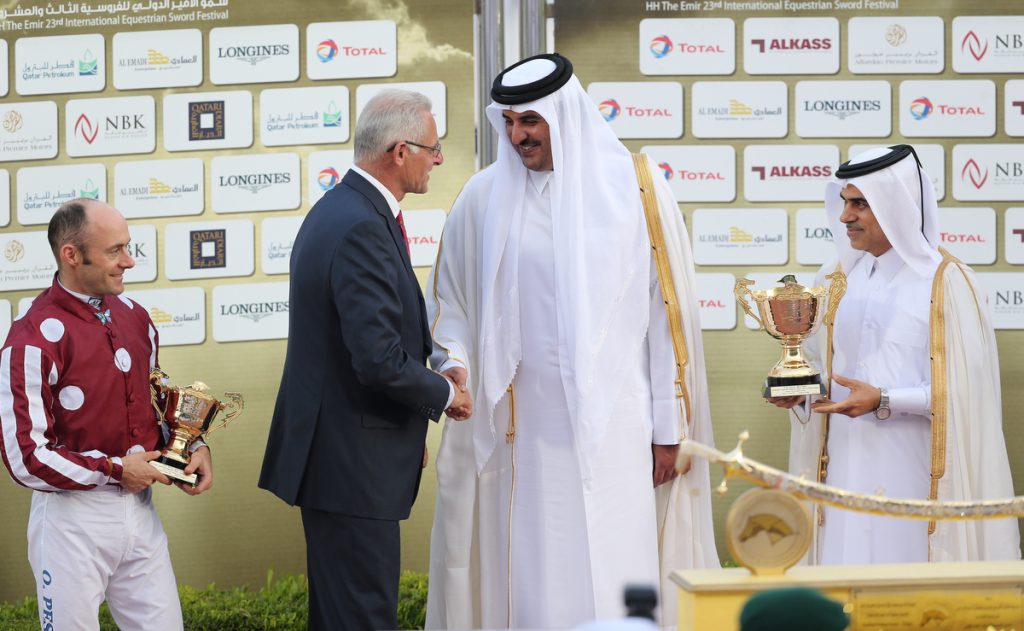 He reached Listed class in Germany and France before going to the pre-Arc Arqana sale in October, where Jassim Ghazili bought him for €200,000.
Now Dubday could be on his way to Dubai, following in the footsteps of Very Nice Name, who went on to run third to St Nicholas Abbey in the Sheema Classic before embarking on a European summer campaign.
Dettori added: "When Dubday put his head down and ran on for me, I knew he would catch the leader. He is a decent stayer and if he goes to Dubai, he will not be disgraced."
Ghazali, who recorded four wins on the day to take his total at the Festival to 12, and Dettori earlier teamed up to win the fillies' and mares' conditions race over 1,600m with Momalorka, from whom the jockey conjured a brilliantly timed run on the outside to lead in the last couple of strides.
Similar tactics were less successful when Dettori rode Roman Legend, winner of his three previous races, in the HH Emir's Shalfa Trophy for thoroughbreds over 1,850m, but the stable still supplied the winner in City Zen, on whom Stephan Ladjadj made all the running to beat Rosso Corsa by a length and a quarter, with Roman Legend getting going too late and being beaten a further neck into third place.
Roman Legend had beaten City Zen and Rosso Corsa in the Qatar Silver Trophy earlier in the month. There was a similar story of tables being turned in the HH the Emir's Silver Sword for Purebred Arabians over 1,850m, where Majd Al Uraiq, who had laid claim to being one of Qatar's top four-year-olds, had his winning run ended by Tajarub, who had been second to Majd Al Uraiq in the recent Qatar Silver Sword.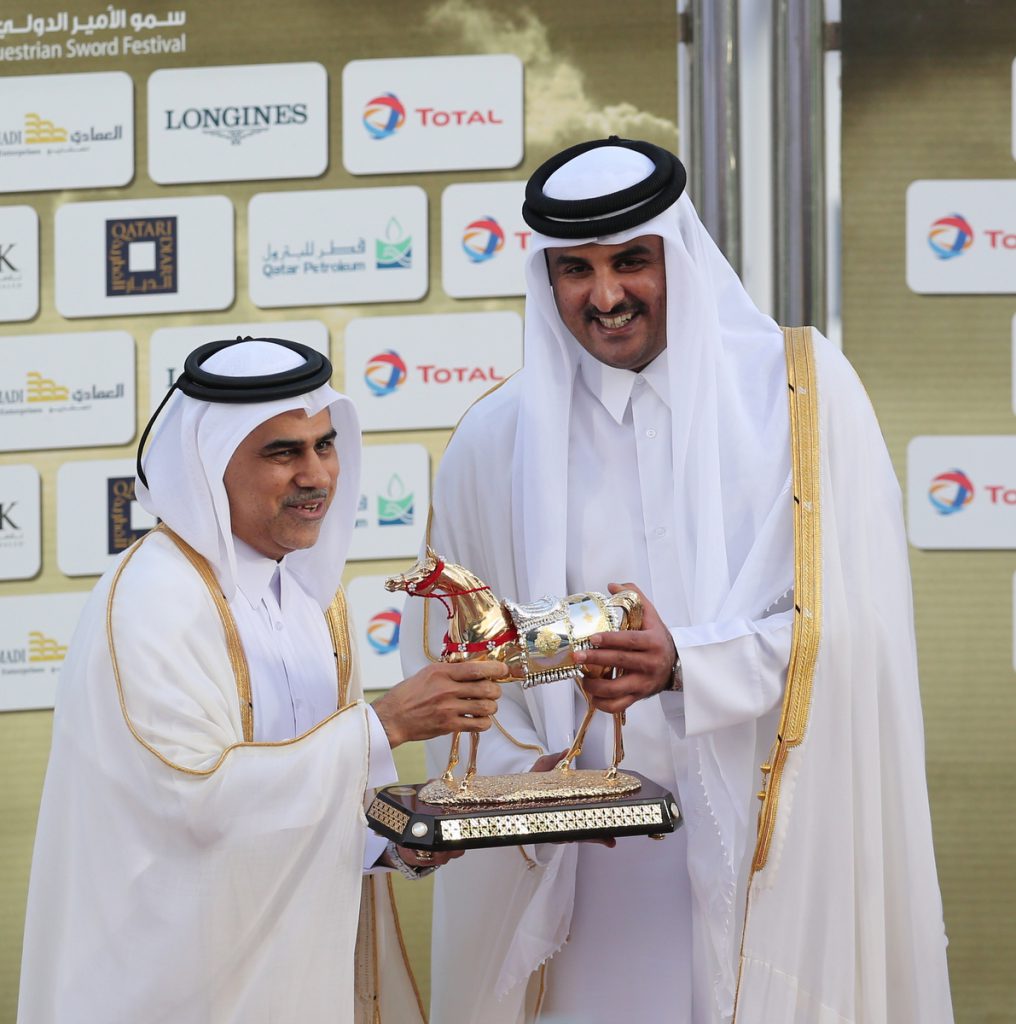 Harry Bentley produced Ghazali-trained Tajarub with a perfect run to lead 200m from the finish and they held on to win by a head from Majd Al Uraiq, whom Pier Convertino brought wide with a strong run on the outside, after being sixth into the straight.
On a day of exciting finishes, Olivier Peslier made all the running on Khabbab, trained by Alab de Mieulle for Umm Qarn, in the HH the Emir Trophy for local Purebred Arabians over 2,400m, and conserved sufficient energy to withstand the late challenge of Taraf and jockey Bentley by a neck.